Contact Information
Lafayette Correctional Center
916 Lafayette St
Lafayette, LA 70501
(337) 236-5400
Facility Website
Connecting with Inmates at
Lafayette Parish Corrections
Welcome to your source for everything you need to communicate with your incarcerated friend or loved one.
Our facility uses the communications services provided through GettingOut by Telmate. On this page, you'll find all the information you'll need to stay connected.
Before you can communicate with inmates at this facility, you must first verify your identity. 
You will need to confirm your identity through the Telmate Verified program before you can accept inmate phone calls. Telmate verification helps ensure the safety of you and your inmate contact by aiding in the elimination of fraud and extortion. Choose one of these 2 methods to verify your account:
Make a deposit: You will be verified when you make your first deposit to an inmate or telephone number
Create a visit account: When you create your video visit account, you'll be asked some questions to verify your identity.
Phone Calls & Voicemail
Only offenders may initiate phone calls. To call you, an offender simply dials your phone number. When receiving a call, you'll first hear an announcement from an automated operator; "You are receiving a call from [offender name], an offender at Lafayette Parish Corrections. Press one (1) to accept."
If the offender has no funds in his account, and is calling you for the first time, the call will be free for a brief period of time (often less than a minute). This is to allow the offender to inform you of where he or she is, and to explain how calls work from this facility. After this short call, the offender will be placed on hold and you will be presented the opportunity to:
Pay (via credit card) to continue the current call.
Deposit funds for the offender to continue your call and, if there is money remaining, the offender may use the funds to make future calls to any number.
Deposit funds to your own phone number to continue your call and, if there is money remaining, the offender may use the funds to call your number in the future, but the funds will not be available for calling other numbers.
If you wish to contact an offender, you can call 1-866-516-0115 and leave them a voicemail (up to 3 minutes), or use one of the other communications methods listed below.
Blocking Future Calls
If you do not wish to receive calls from offenders, simply call 1-866-516-0115 from the phone number that you wish to have blocked. A live operator will help prevent offenders from being able to call that number in the future.
At Lafayette Parish Corrections, communication is more than just phone calls.
We provide a number of ways to keep in contact with an inmate. GettingOut at Lafayette Parish Corrections allows you to send and receive secure messages, share photos, and video visit from your home. And with our Android and iOS apps, you can send messages and make deposits on the go. See the list below for all that GettingOut has to offer.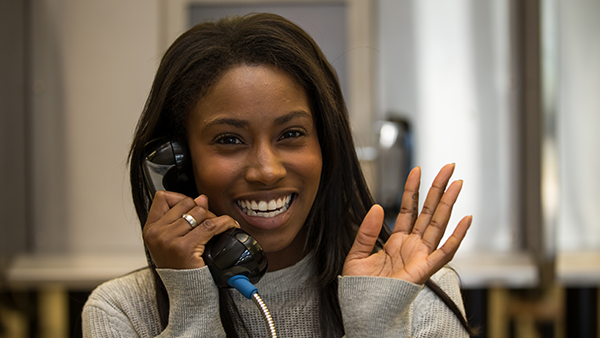 Onsite visitation location, rules and hours
The visitation center is located at the LPSO Public Safety Complex, 1825 W. Willow Street Scott, LA 70583
Onsite visiting hours are from 8:00 am-8:00 pm Monday through Friday; and 11:30 am-3:30 pm on Saturdays and Sundays.
The maximum number of visitors per offender is four (4) adult visitors and two (2) juvenile visitors at a time. Children under the age of 18 will be permitted with parents, or legal guardian. Each offender receives two free visits per week, which must be scheduled by the offender only.  Any additional onsite visits may be scheduled at a cost of $0.25/minute in 30-minute blocks.
Scheduling Visits
To schedule a visit with an inmate, go to www.gettingout.com or use the kiosk in the facility lobby. You will need to login (or register if you haven't already) before scheduling a visit. Available visiting times may vary throughout the facility, depending on classification and housing unit. Inmates are responsible for communicating their allowed visit times to prospective visitors. Inmates will not be permitted to visit during their lockdown time.
Canceling a Visit
To cancel a visit, log into www.gettingout.com or use the link provided in your confirmation email. Cancellations that are over 24 hours in advance are fully refunded.
Video visitation center rules:
Courtesy:
Remember to be respectful of staff and other visitors.  Keep in mind that other families are trying to visit with offenders.  This is a workplace environment.  Children must remain seated with an adult and noise level must be kept at a minimum.
Dress Code:
The Dress Code is strictly enforced. All visitors must be dressed appropriately or the visit will not be permitted.
Clothing must be in good taste and not advertise or suggest any items in such a manner to signify a Security Threat Group or other illegal activity.
Visitors should not wear clothing that is sexually explicit, offensive, or degrading.
All visitors must wear underwear and female visitors must wear a bra.
No shorts are allowed.
Visitors should not wear clothing which reveals the buttocks or breasts.  Shirts must have sleeves and fully cover the chest and midsection.
Clothing should be worn in loose fitting fashion, not skin tight.
No caps, hats, or head cover of any type.
Examples of inappropriate dress for visitors are:
Short shirts or dresses, wrap around skirts, see through clothing, see-through or low-cut blouses, tube tops, halter tops, tank tops, swim suit or swim tops, clothing with "cutouts" or leggings/tights. Dresses or skirts should be below knee length.
Termination of visit/loss of visiting privileges:
Visiting privileges may be denied, suspended or restricted upon the following: security and safety requirements; disruptive conduct of the offender or visitor; or abuse of the visiting privileges by the offender or visitor.
Inappropriate actions on the part of a visitor or offender may result in a temporary or permanent loss of that person's visiting privileges. Disruptive behavior by offenders and/or visitors or violations of any of the rules shall be cause for termination of visiting privileges. The visiting room staff/security staff will have the discretion of giving one warning for minor violations of the visiting rules but must report any further disruption.
For updates on visit scheduling and other info from the Lafayette Parish Sheriff's Office, check out our Facebook page.
Making Deposits at the Kiosk
&

Commissary
Kiosks
If you need to deposit cash, you can deposit funds at a Telmate Lobby Kiosk. Lafayette Parish Corrections has kiosks in several locations:
Open During Business Hours: 
LPSO Visitation Center at the LPSO Public Safety Complex
1825 W. Willow St.
Scott, LA 70583
Lafayette Parish Office Building
4th Floor Lobby
1010 Lafayette Street
Lafayette, LA 70501
Open 24 Hours:
LPCC Bonding Lobby
916 Lafayette Street
Scott, LA 70583
Commissary
Inmates are allowed to maintain a commissary account while incarcerated. This money may be used for purchasing snacks, toiletries, personal hygiene items, etc. Money for an offenders commissary account may be deposited here on the GettingOut site, over the phone with a customer service representative, or at one of the kiosks listed above. If you are paying with a credit card, the GettingOut site is the fastest and most convenient way to deposit funds for an offender.
Deposit funds into an inmate's account instantly and securely.
Visit our help center for FAQs and video tutorials.
Stay in touch, share with others, and stay connected.