Contact Information
Facility Address:
301 N College Avenue #304
Bloomington, IN 47404
(812) 349-2768
Connecting with Inmates at
Monroe County Correctional Center
Welcome to your source for everything you need to communicate with your incarcerated friend or loved one.
Our facility uses the communications services provided through GettingOut by Telmate. On this page, you'll find all the information you'll need to stay connected.
Before you can communicate with inmates at this facility, you must first verify your identity. 
You will need to confirm your identity through the Telmate Verified program before you can accept inmate phone calls. Telmate verification helps ensure the safety of you and your inmate contact by aiding in the elimination of fraud and extortion. Choose one of these 2 methods to verify your account:
Make a deposit: You will be verified when you make your first deposit to an inmate or telephone number
Create a messaging account: When you create your messaging account, you'll be asked some questions to verify your identity.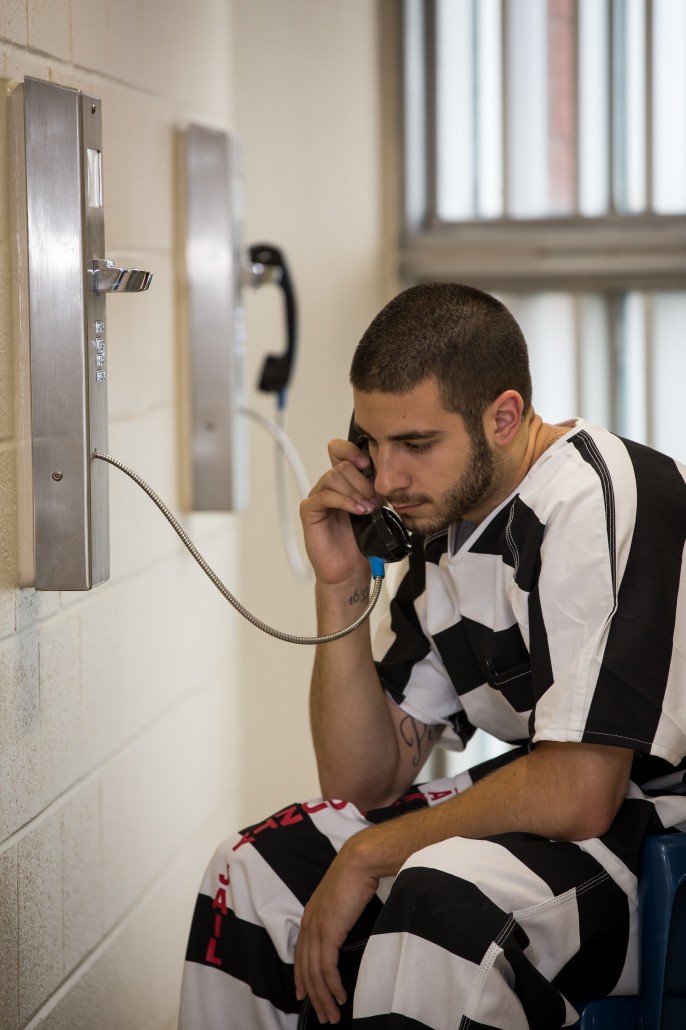 Phone Calls & Voicemail
Only inmates may initiate phone calls. To call you, an inmate simply dials your phone number. When receiving a call, you'll first hear an announcement from an automated operator; "You are receiving a call from [inmate name], an inmate at Monroe County Correctional Center. Press one (1) to accept."
If the inmate has no funds in his account, and is calling you for the first time, the call will be free for a brief period of time (often less than a minute). This is to allow the inmate to inform you of where he or she is, and to explain how calls work from this facility. After this short call, the inmate will be placed on hold and you will be presented the opportunity to:
Pay (via credit card) to continue the current call.
Deposit funds for the inmate to continue your call and, if there is money remaining, the inmate may use the funds to make future calls to any number.
Deposit funds to your own phone number to continue your call and, if there is money remaining, the inmate may use the funds to call your number in the future, but the funds will not be available for calling other numbers.
Voicemail
If you wish to contact an inmate, you can call 1-866-516-0115 and leave them a voicemail (up to 3 minutes), or use one of the other communications methods listed below.
Blocking Future Calls
If you do not wish to receive calls from an inmate, simply call 1-866-516-0115 from the phone number that you wish to have blocked. A live operator will help prevent inmates from being able to call that number in the future.
At Monroe County Correctional Center, communication is more than just phone calls.
We provide a number of ways to keep in contact with an inmate. GettingOut at Monroe County Correctional Center allows you to send and receive secure messages, share photos, and video visit from your home. And with our Android and iOS apps, you can send messages and make deposits on the go. See the list below for all that GettingOut has to offer.
Making Deposits at the Kiosk
&

Commissary
Kiosks
If you need to deposit cash, you can deposit funds at a Telmate Lobby Kiosk. The lobby kiosk is located in the jail lobby.
Commissary
Inmates are allowed to maintain a commissary account while incarcerated. This money may be used for purchasing snacks, toiletries, personal hygiene items, etc. Money for an offenders commissary account may be deposited here on the GettingOut site, over the phone with a customer service representative, or at one of the kiosks listed above. If you are paying with a credit card, the GettingOut site is the fastest and most convenient way to deposit funds for an offender.
Deposit funds into an inmate's account instantly and securely.
Visit our help center for FAQs and video tutorials.
Stay in touch, share with others, and stay connected.